Hit White Triangle To Listen Now OR Download for Later Keep Scrolling For Info, Links & Images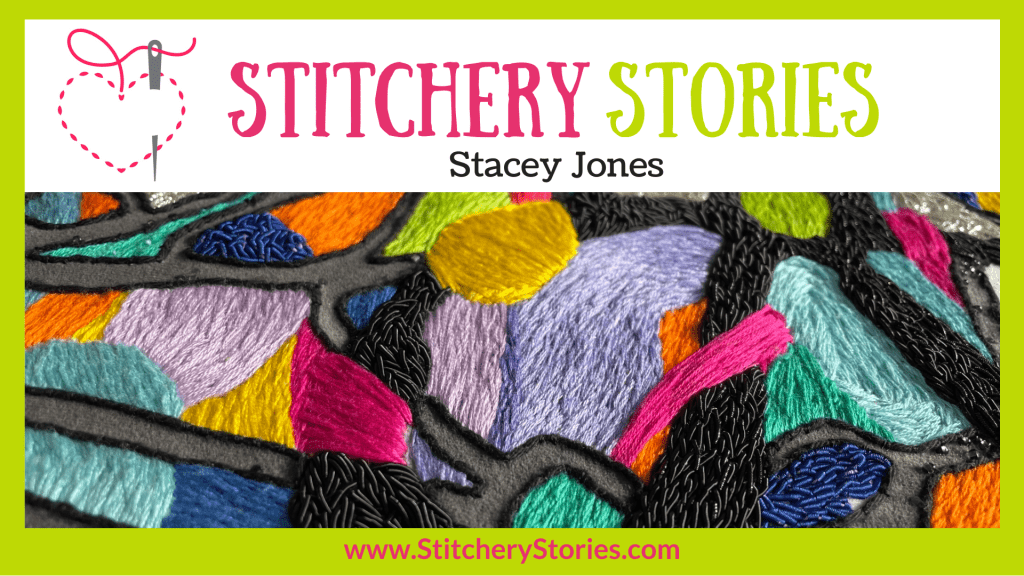 Stacey Jones creates colourful, modern, abstract hand embroidery art. Her work powerfully reflects her thoughts & emotions through her life experiences.
Stacey shares her story of how her life with her husband has strongly informed her embroidery designs, particularly his illness, tragic death and her mourning process as she evolves into living alone. Embroidery has been a massive help to Stacey, and she shares stories and wisdom around the power of creativity in such situations.
This is a fascinating conversation about developing themes, ideas, inspirations, designs, colour and stitch.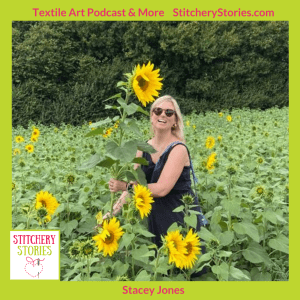 Susan Weeks chats with Stacey Jones about:
Using sunflowers as an enduring symbol of hope, strength and inspiration.
The impact of mood & emotions on choosing a colour palette to work with.
Considering 'the spaces in-between' and developing art around that concept.
Inspiration from galaxies to the spaces in-between seeds.
Finding comfort in repetitive processes & stitching.
Learning some new hand embroidery techniques, goldwork, tambour embroidery.
Going to cool life drawing classes with neon painted models.
The luxury of creating work purely for herself.
Finding freedom in reposting her abstract hand embroidery archive.
Exciting plans for the future.
Representing calm breath work with embroidery.
Ways to spark creativity when you are feeling stuck.
and so much more!
For this episode…
Look: https://www.instagram.com/bystaceyjones
The Hand & Lock embroidered arts exhibition 2021
https://handembroidery.com/hand-and-lock-exhibition-2021/
Sarcoma UK The bone & soft tissue cancer charity
To support this embroidery & textile art podcast:
You can 'Buy Sue A Coffee' here: https://www.buymeacoffee.com/sueweekspodcast
---
Follow Susan Weeks for online course creation and online marketing stuff
https://www.facebook.com/TheMissingTraining
https://www.instagram.com/susan.l.weeks
Sign up for information
on Sue's 'How To Create An Online Course' which is specifically created for textile artists and other crafty business owners.
Course Creation Quick Start Guide. https://virtualityworks.com/how-do-you-create-a-course-quick-start/
---
Other Episodes You Might Like:
Claire Edwards: Pushing The Boundaries Of Traditional Hand Embroidery
https://stitcherystories.com/claireedwards/
Jessica Grady: Embroidery Artist Using Unusual Materials And Bold Colours
https://stitcherystories.com/jessicagrady/
Michelle Morgan: Hand Embroidery Artist
https://stitcherystories.com/michellemorgan/