Hit White Triangle To Listen Now OR Download for Later Keep Scrolling For Info, Links & Images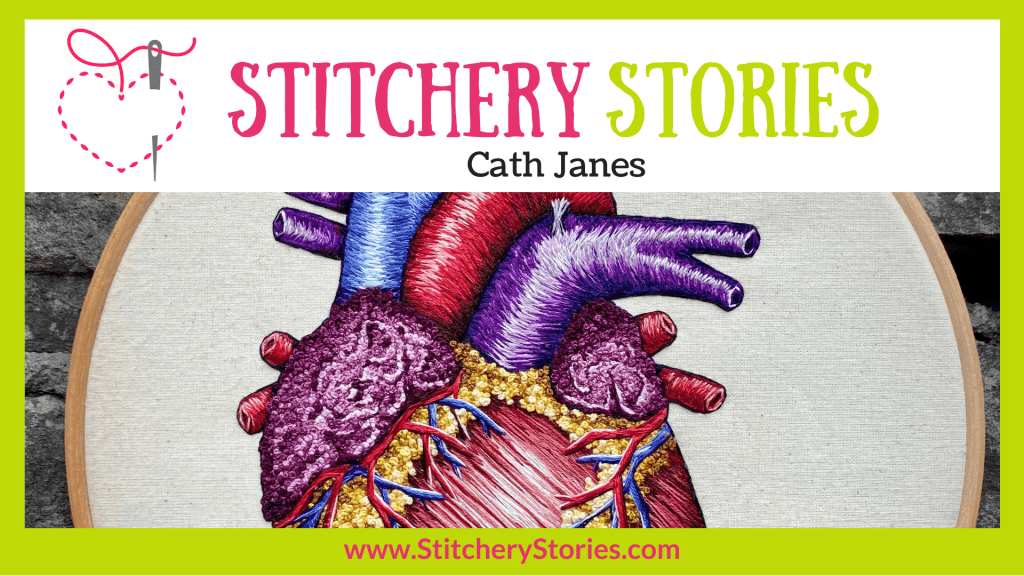 Cath Janes is an award-winning human anatomical embroidery artist.
She now works under her own name, having moved on from using Kraken Kreations, but regardless of the name you may have found her under, she combines anatomically correct illustrations with colourful hand embroidery which all have a story to tell.
Cath shares her honest and hilarious story of the ups and downs of the creative life of an artist, and her unique and distinctive art. There is so much entertainment as well as valuable creative business lessons contained within this episode of the Stitchery Stories textile art and embroidery podcast.
Maybe you dream of going viral on Instagram, worry about being artistically lonely, or struggle to set boundaries and price your art?
You will certainly find some inspiration and hard-earned experience today. Oh, and have a right good laugh too!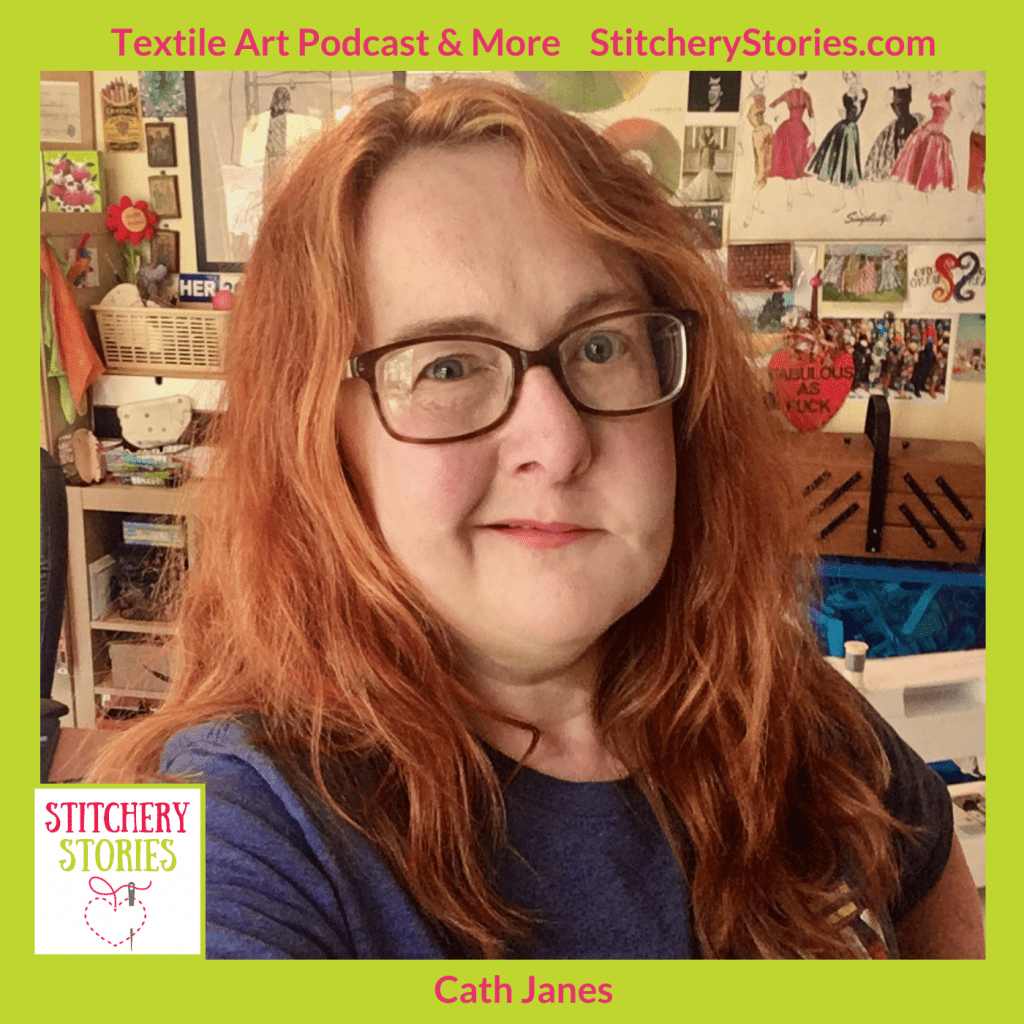 Susan Weeks chats with Cath Janes about:
Joys & frustrations of commissions
Inspiring stories behind her anatomical embroidery commissions
Her commissioned hoops are often part of a healing process
Importance & prevalence of medical illustrations
What is 'false colour'
The surprising catalyst for becoming an anatomical embroiderer
Anyone else love dissecting things?
Dealing with artistic loneliness and finding your tribe
What really happens when a 'reel' video goes 'viral' on Instagram
Balancing commercial pressures with artistic urges
and so much more!
Visit: https://www.cathjanes.com/
Like: https://www.facebook.com/KrakenKreations
Look: https://www.instagram.com/cathjanesanatomy
You can 'Buy Sue A Coffee' here:
Follow Susan Weeks for course creation and online marketing stuff
https://www.facebook.com/CraftyCourseProfitBooster
https://www.instagram.com/susan.l.weeks
Sign up for information on Sue's 'How To Create An Online Course' which is specifically created for textile artists and other crafty business owners.
Course Creation Quick Start Guide.
https://virtualityworks.com/how-do-you-create-a-course-quick-start/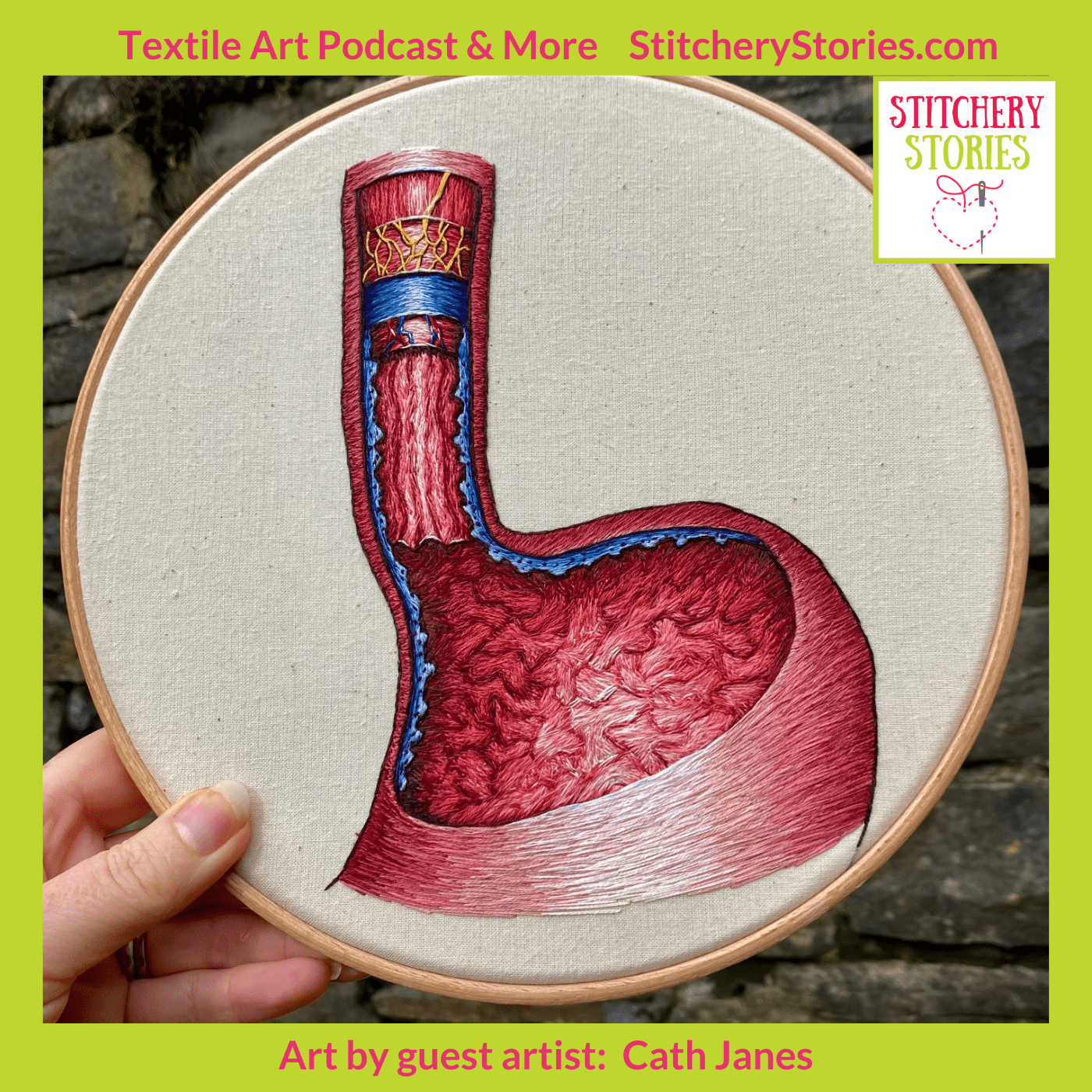 Other Episodes You Might Like:
Ruth Norbury: Capturing Urban Decay With Textile Art
https://stitcherystories.com/ruthnorbury/
Profanity Embroidery Group: Huge Fun. Beautiful Art. Ugly Words
https://stitcherystories.com/profanityembroiderygroup/
Jane Sanders: Textile Portraits Of Iconic Pop Stars