Hit White Triangle To Listen Now OR Download for Later Keep Scrolling For Info, Links & Images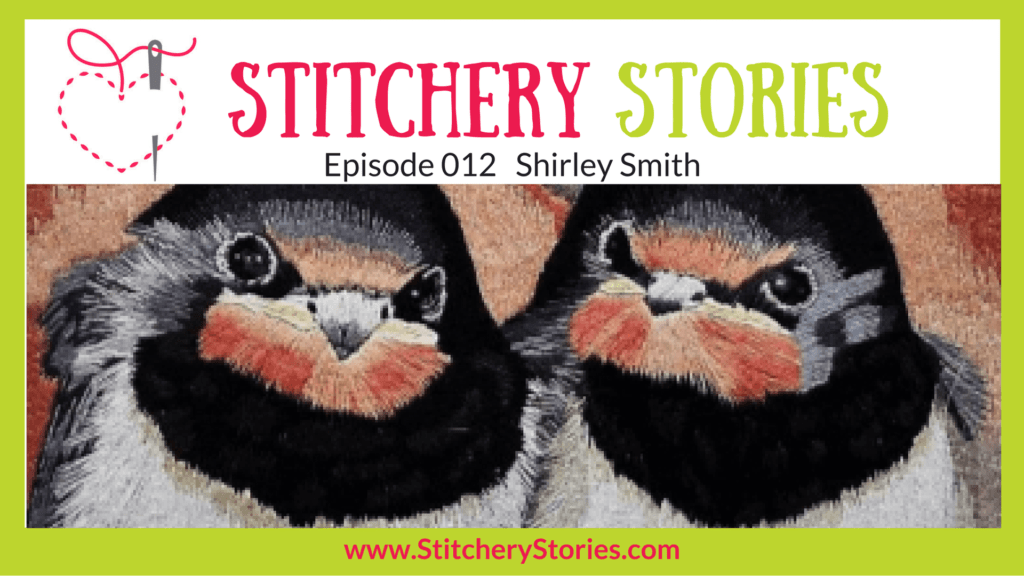 Shirley Smith: Hand Embroidery & Mixed Media Artist
Today on the Stitchery Stories textile art podcast, Shirley Smith Shares Her Life In Fabric & Thread. She chats with Susan Weeks about developing her artistic skills from lace to embroidery, and the friends and community spirit she enjoys within the embroidery 'world'.
Continue reading to discover the highlights of our chat and to see examples of Shirley's work.

Susan chats with Shirley about:
Her traditional start being surrounded by creative family members
Where changing an L to an E led her…
Inspiring tutors and mentors
Including stained glass into textile art
Taking part: Magna Carta & Jurist Edward Coke
Taking part: The White Walker's Blue Blingy Pendant
What happened to a major commission when Shirley fell down the stairs…
The fate of the Golden Plover
Juggling those metaphorical plates
Taking part and joining in
Shirley is an exhibiting member of The Ebor Group based in York.
And a long-term member of what is now  York Embroiderers And Stitchers
Shirley was also the project leader for The Stamford Bridge Tapestry project