Hit White Triangle To Listen Now OR Download for Later Keep Scrolling For Info, Links & Images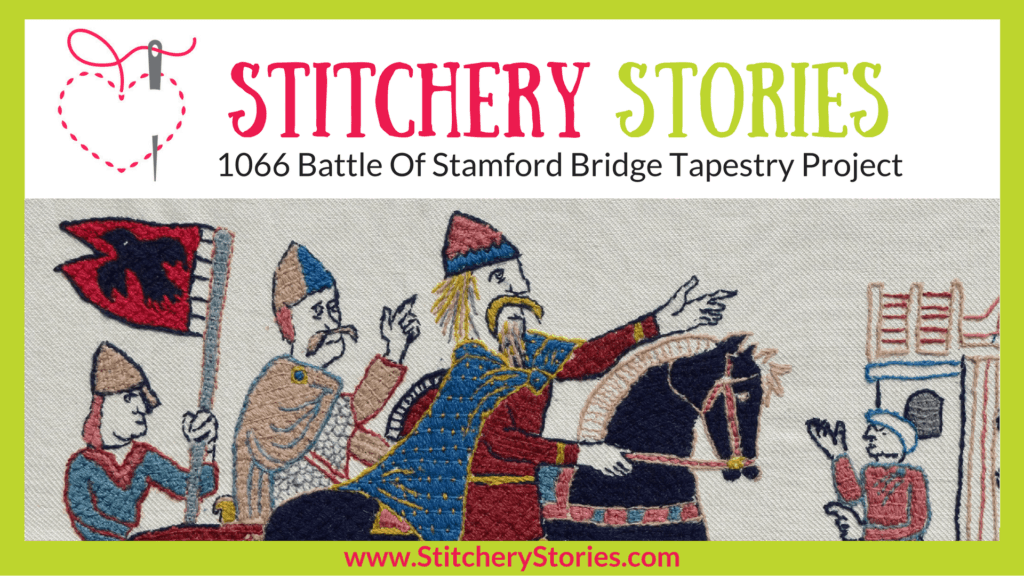 Today on the Stitchery Stories podcast, Heather Cawte shares the story of the Battle Of Stamford Bridge Tapestry Project. It is a community embroidery celebrating the Battle Of Stamford Bridge in 1066.
The project started in 2015. Since then, great progress has been made with the stitching, and also in generating media attention and fundraising. And if you are wondering where Stamford Bridge is, it is in the East Riding Of Yorkshire, a few miles east of the City Of York, in England. 🙂
UPDATE 2022: you will be delighted to know that the tapestry is finished and beautifully displayed in its permanent home, at the Old Station community centre, Church Road, Stamford bridge, East Riding Of Yorkshire.
Susan Weeks chats with Heather about:
How the tapestry project got started
Skills the team have developed
How the design, colours, materials & stitches were chosen
The excitement of Royal admirers
How the stitchers organise their work
The size and style of the tapestry
When will it be finished
Where will it be displayed
Speaking, exhibitions, & displays
Media attention & spreading the word
The story of the battle and its importance in British history is told by Heather. You can listen to the separate audio file here: The Story Of The Battle Of Stamford Bridge 1066
Visit: http://www.stamfordbridgetapestry.org.uk
You will also enjoy the episode with Shirley Smith