Hit White Triangle To Listen Now OR Download for Later Keep Scrolling For Info, Links & Images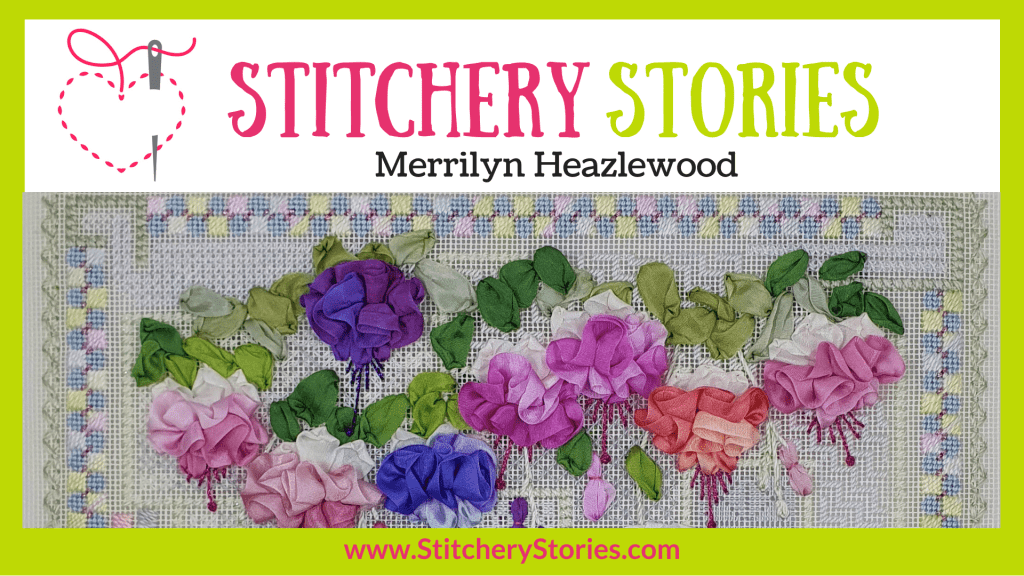 Embroidery artist Merrilyn Heazlewood shares her life in fabric & thread on Stitchery Stories embroidery podcast today! She takes us on a journey through her interesting and busy lifelong creative business career based around counted canvas work hand embroidery. And for those of you in the USA, you will know canvaswork as needlepoint.
Keep scrolling for a gallery of Merrilyn's beautiful canvaswork & silk ribbon embroidery.
Anyway, over the years, Merrilyn has owned several needlework shops, has written several books on wool embroidery, counted canvaswork techniques and also on silk ribbon embroidery. And she has also taught internationally for many years, in-person and now creating projects for online learning.
We catch up with Merrilyn as she looks forward to her summer holiday break, with several projects in mind to let her creativity flow.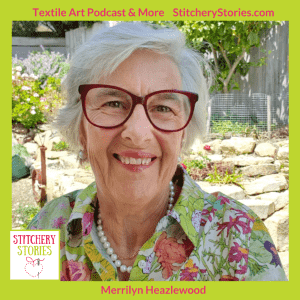 Susan Weeks chats with Merrilyn about:
why she opened a needlwork craft shop at age 23
how she translates an idea into canvaswork and ribbon embroidery stitches
playing with goldwork inspired by an ancient Aboriginal Rock art Echidna
how do you learn crafts when your Mum is left-handed and you are right-handed?
getting 'hooked' into counted cross-stitch embroidery
combining silk ribbon embroidery with counted canvaswork / needlepoint
a focus on inspiring customers
self publishing several books…back inthe day when it was really difficult!
selecting style, threads and accessories for 'longevity' of stitching
meeting inspiring people around the world in so many locations
designing the creative business you love and which protects your precious health.
how NOT to thread your needle….
and so much more!
Connect with Merrilyn
Visit: https://merrilynheazlewood.com.au
Look: https://www.instagram.com/merrilynsstitches/
Like: https://www.facebook.com/MerrilynBHeazlewood
Other places & people we mentioned:
In Tasmania:
Tarraleah, Hobart, Launceston, Battery Point, Mount Wellington, Iron Pot (a small flat island in the mouth of the Derwent River, Tasmania)
The Kimberley region in north-west Australia
Aboriginal rock art Echidna
Gumnut Yarns http://www.gumnutyarns.com/
Lowery Workstands https://www.workstands.com/
Other episodes you will enjoy
Sarah Rakestraw: Glorious Goldwork Embroidery
https://stitcherystories.com/sarahrakestraw/
Tina Francis: Tapestry, Needlepoint, Canvaswork
https://stitcherystories.com/tinafrancis/
Ilke Cochrane: Delightful Hardanger Embroidery
https://stitcherystories.com/ilkecochrane/