Hit White Triangle To Listen Now OR Download for Later Keep Scrolling For Info, Links & Images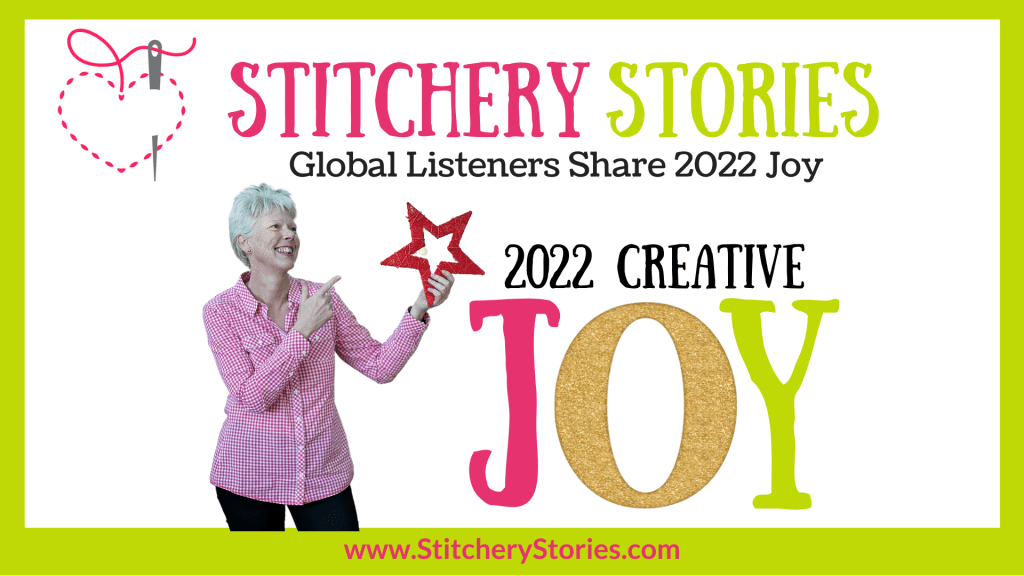 A cheerful & inspiring episode as global listeners of Stitchery Stories textile art podcast share their stories of textile art enjoyment and creative joy from 2022. And, let's not forget those 'joy bringers' who helped them in some way to achieve that joy.
Hello & Welcome to my final episode of 2022.
A recurring theme is how much comfort & joy creative activities bring us. Textile art enjoyment, fiddling with fabric & threads, embroidery, crafting, creating, knitting, crochet…. it's an endless list of fun!
So I thought it would be lovely to hear your stories of creative JOY from 2022. But not only that, to give us an opportunity to hear about those people that helped create that joy for you – the JOY BRINGERS as I decided to call them.
A massive thank you to all of you who took the time to send in your JOY. To share your fun and enjoyment from textile art, embroidery and all your other crafty activities.
You are all STARS!
Scroll down for each contributor, with their links and also the details and links for their joy bringers.
I also sent out a quick question asking what your favourite techniques, and again got some lovely replies, so I have featured a selection of those too, which are along the same theme of joy and yet more shoutouts to others.
Please tell your friends about this episode, share on socials thru stories, or write your own post, maybe with an image of you busy making and creating whilst listening? We can bring joy to others by sharing what we love. And it's always very much appreciated.
So as we wrap up 2022, I wish you all a creative and joyful 2023 Sue xxx
For this episode…
View Contributors, Links, & Information – scroll down!
To support this embroidery & textile art podcast:
You can 'Buy Sue A Coffee' here: https://www.buymeacoffee.com/sueweekspodcast
Follow Susan Weeks for course creation and online marketing stuff
https://www.facebook.com/CraftyCourseProfitBooster
https://www.instagram.com/susan.l.weeks
Sign up for information on Sue's 'How To Create An Online Course' which is specifically created for textile artists and other crafty business owners.
Course Creation Quick Start Guide. https://virtualityworks.com/how-do-you-create-a-course-quick-start/
All The Contributors To This Episode
Jacqui Beigie, Virginia, USA
supporting kindergarten classes with arts & crafts, at Wilderness Elementary School in Spotsylvania, Virginia.
Bridget Carpenter, Whitstable, Kent, UK
Active member of The Profanity Embroidery Group Whitstable
https://pegwhitstable.co.uk/
Current group project, collaborating with Vanessa Marr's Domestic Duster project
https://domesticdusters.wordpress.com/2022/11/10/swear-it-on-a-duster/
PEG episode on Stitchery Stories
https://stitcherystories.com/profanityembroiderygroup/
Pauline Heywood
Longterm member, Regional leader & supporter of The Embroiderers' Guild
https://embroiderersguild.com/
Claire Mort
Creativity is as necessary as breathing, as is making joyful connections
https://www.clairemortartist.com/
Shout out OvoBloom aka Helen Wilde
https://www.instagram.com/ovobloom/
Shout out to Ellie Ansell
https://www.instagram.com/ellie_ansell
Claire de Pourtales
Finding a little paradise within an amazing haberdashery store in Romont, Switzerland
https://new.letempsdebroder.ch/
https://www.instagram.com/letempsdebroder/
The Atelier du Passe-Temps : Rue de l'Eglise, 73, Romont, Switzerland.
https://www.atelier-passe-temps.ch/
https://www.instagram.com/mercerie_latelierdupassetemps/
alicethemaninspace
https://www.instagram.com/alicethemaninspace/
An oil painter falling in love with embroidery.
Shout out to these inspiring artists:
Charisma Chugani and Gimena Romero on Domestika
https://www.instagram.com/seamcollective/
https://www.instagram.com/mirjamtextiles/
https://www.instagram.com/Zenstitching/
https://www.instagram.com/lemonpepperstudio/
https://www.instagram.com/sashiko.lab/
and last but not least https://www.instagram.com/stitcherystories_podcast
Arleen Dale
Enjoying finishing things off in 2022!
Multi-craft tutor with an online 'school'
https://www.ecirclesoflearning.com/
Christine Simpson, London UK
Getting started on some proper embroidery projects (after a long break) and using them to raise awareness of stammering.
https://www.instagram.com/christines976
supporting STAMMA www.stamma.org
Shout out to Lucy Burton https://www.instagram.com/freckle.doll
Ainee C Beland
Blogging about tea & activities involving tea
https://teawithainee.wordpress.com/
Discovered:
Jane Austen's Embroidery by Jennie Batchelor and Alison Larkin.
Video book review https://www.youtube.com/watch?v=sWqLEuosN4E
Alison Larkin Embroidery: https://alisonlarkinembroidery.com/
Lady Anne's Needlework https://ladyannesneedlework.com/
The Crewel Work Company https://www.crewelwork.com/
Sarah Thursfield how to make a historic coif https://www.sarahthursfield.com/
Blog post: https://wp.me/p2d11i-xB
Jennie & Alison on Stitchery Stories:
https://stitcherystories.com/janeaustenembroidery/
Sue Thomas, Ontario, Canada
Attended in-person class with Embroiderers Association of Canada
"Stitch Your Own Story" with Mike Parr
https://www.facebook.com/mike.parr.embroidery
Happy member of EAC-Virtual Threads
Embroiderers Association Of Canada
Natalie Tidy Lancashire, UK
Loving every second of Level 4 Knitting with the School of Stitched Textiles
https://www.sofst.org/
Gail Cowley founder of SOST on Stitchery Stories
https://stitcherystories.com/gailcowley/
Saima Kaur, Yorkshire, UK
Created embroidery collection for Unpolished Space in Stow On The Wold, Gloucestershire, UK.
Theme of Indian fairgrounds : women swallowing swords, breathing fire and balancing on tightropes!
https://www.instagram.com/sewsaima
https://www.unpolishedspace.com/collections/pictures
Saima Kaur on Stitchery Stories:
https://stitcherystories.com/saimakaur/
Barbara Legener San Antonio, Texas.
https://www.instagram.com/Barbie21sw
Enjoyed making many small mice & cats from patterns from Ann Wood
Shoutout to Ann Wood https://www.annwoodhandmade.com/
https://instagram.com/annwood
Jane Cook, Essex, UK
Hosts a therapeutic stitch group called Stitch to Enrich in Hatfield Peverel, Essex
Contact Jane for details: stitch2enrich@gmail.com
https://hatpevvhall.org/notice-board
Also hosts 'Stitch Meditation' workshops in locations around Essex
Cas Holmes, Kent, UK
Thrilled to have carer support so she could attend in-person her own exhibition preview
Shoutout to Sevenoaks Visual Arts Forum
http://svaf.co.uk/
Shoutout to Involve Kent supporting carers
https://www.involvekent.org.uk/
Cas Holmes on Stitchery Stories
https://stitcherystories.com/casholmes
Jennie-maree Tempest, Australia
The joy of replicating 3d banksia flowers and seed cones using a variety of textile art techniques
https://jemartem.com/
https://www.instagram.com/jemartem.textiles/
Jennie-maree Tempest on Stitchery Stories
https://stitcherystories.com/jenniemareetempest/
Jean, East Lothian, Scotland
Shoutout to ICHF (International Craft and Hobby Fair Ltd), based in Highcliffe, Dorset.
The joy of taking part in large competitions & the thrill of being exhibited
https://www.ichfevents.co.uk/
https://www.creativecraftshow.co.uk/competitions/the-madeira-embroidery-competition-2023/
Catherine Lawes from Eastbourne, UK
Enjoying the changing creative direction into making handmade designer coats & jackets
Etsy Shop: https://www.etsy.com/uk/shop/CatherineLawes
Shoutout to artist photographer Ant Grant
https://www.facebook.com/profile.php?id=100077835038067
Chris Fraser
Joyfully sums up the delights of creativity and the challenges of all those lovely fabrics, threads, books and tools!
Shoutout to North London Stitch and Textiles group:
www.nlstitchandtextiles.co.uk/
Sandra McFarlane
Shoutout to online course from Ornamental Embroidery (Lynn Hulse and Nicola Jarvis)
https://www.ornamentalembroidery.com/
Shoutout to Jenny Adin-Christie and making her 'Owl'
https://jennyadin-christieembroidery.com/
Kaye Ruth Richards Grafton, New South Wales, Australia
Taking a break from the crochet she loves
The joy of getting back into patching quilting and connecting with an old friend to do so.
Paula MacGregor, UK
Loves making slow stitched books and has a facebook group focused on them.
https://www.facebook.com/groups/EllensLegacy/
Ozden Clow
https://www.ozdendora.com/
textile art tutor and fan of Ottoman embroidery
Lee Harris
loves layering fabrics and burning back with soldering iron
Fiona Jeferies
Currently working on a Siddi style panel to transform scraps into pockets for a canvas bag.
https://mapacademy.io/quilting-as-a-form-of-assimilation-siddi-quilts-and-quilt-makers/
Harriet Alonso, New York, USA
Loves feminist and progressive politically inspired textile art
http://harrietalonso.com
Moya McCarthy, Prestatyn, North Wales
Enjoying 'Calico Gardens' techniques.
Shoutout to inspiring artists in this technique: Irene Coulthard, April Gilchrist, Angie Burt
Faye Cook
Loving all forms of craft, hand sewing, crochet & quilting
Thank you, once again, to everyone who contributed to this joyful episode!
Cheers, Sue xxx