Hit White Triangle To Listen Now OR Download for Later Keep Scrolling For Info, Links & Images
Textile artist Jayne Emerson revisits the Stitchery Stories textile art podcast today!
She takes us on a journey on how she has pivoted her creative business to focus on teaching people around the world through her online courses and her unique membership The No-Rules Textiles Society.
Jayne was a guest here back in 2018 and gives a quick update as to where she was and what challenges she was facing back then.
And then we dive into the details of how she created her courses, and the practicalities of running her creative membership. The financial benefits and the fabulous network of new friendships she has developed online.
Susan Weeks chats with Jayne Emerson:
her secret career
how to reach and teach more impatient textile rebels
her learning curve for online course creation
"the suitcase of wrongness"
the power of a strong niche for your art, online courses & membership
break it down and keep it short
stop trying to do 'all the things' – it just doesn't work!
and so much more!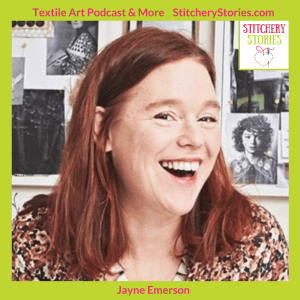 For this episode…
View Show Notes, Links & Examples of Jaynes's creative samples at https://stitcherystories.com/jayneemerson2
Visit: https://jayneemerson.co.uk/
Look: https://www.instagram.com/jayneemersontextiles/
Like: https://www.facebook.com/JayneEmersonTextileDesign
Other places & people we mentioned:
Elizabeth Ashdown (Passementerie)
https://elizabethashdown.co.uk/
Other episodes you will enjoy:
https://stitcherystories.com/jayenemerson/
https://stitcherystories.com/florianeschmitt/
https://stitcherystories.com/nikkiparmenter/